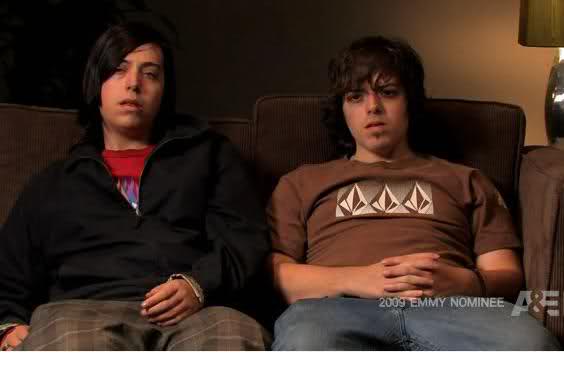 Sebastian and Marcel
Age: Sebastian 21, Marcel 20
Location: Palm Springs, California
Addiction: Heroin (black tar, smoked)
What's memorable: So much! How awful and sick these kids look, how they take advantage of their parent's kindness, the enabling in-denial sweetness of their father, selling drugs out of the house, the forgotten, ignored, caring older brother.
Note: Sebastian (on the right, above) died in April 2013. Link to memorial service video. 
Official synopsis: Sebastian, 21, and his brother Marcel, 20, were soccer celebrities in their town at a very young age. Cool and rebellious, Sebastian hung out with older teammates and started doing marijuana, cocaine and meth. Then Marcel got strung out on cocaine, Xanax and OxyContin, and also sold drugs. Now their older brother is angry, their mother feels betrayed, and their father is ready to give up his wife, his oldest son, and his own life to save them. An intervention is the last hope for the entire family.
Original Air Date: August 2009
Categories: Addicts Who Have Died, Heroin, Most Unforgettable Episodes, Season 6