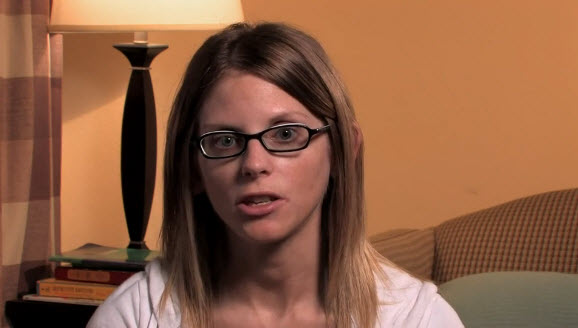 Nicole
Age: 32
Location: Baltimore, Maryland
Addiction: Dyspahsia- not swallowing, also pain pills
What's Memorable: She hasn't swallowed food or liquid in 14 years! I mean seriously. Not even saliva. That's disturbing enough, but her inability to swallow is a traumatized response to being forced to perform oral sex on her friend's father when she was a child. The man who did is admitted to it, got probation, and still lives in her neighborhood, triggering her over and over. Her parents did nothing when it happened. And now everyone just tells her she should get over it and move on, that she's just looking for attention. No one in her life seems to have any kind of sympathy for her, they just think she's disgusting. I mean she clearly needs help, she's very unhealthy, and she's been resistant to getting that help, but I just think that if her family could get a grip on WHY she is the way she is, and that she needs their support and not their judgment, she would be more willing to get better.
Official synopsis: After being molested as a child, Nicole developed an unusual eating disorder–she was unable to swallow. By age 16, she weighed just 68 pounds, and doctors inserted a feeding tube into her stomach. The tube was supposed to be temporary, but 16 years later, Nicole still relies on the tube and can't swallow any food or liquids. She also abuses prescription drugs and neglects her two daughters. Her husband plans to divorce her if she continues to neglect their children.
Original Air Date: December 2008