Season 19, Episode 3
Abbie
Age: 26
Location: Marquette, Michigan
Addiction: Alcohol
What's Memorable: That the ex-husband who horrifically abused her and triggered her addiction, after having gone through anger management, has somehow become the better parent.  That's saying a lot. When he apologizes during the intervention for hurting her, her response is really emotional and I imagine pretty cathartic. Also it's amazing how powerful the force of wanting to be a better parent is to most addicts. It's quite often that the children are the reason why they decide to go to treatment and it was definitely the biggest reason in Abbie's case.
Official Synopsis: Abbie was a young mom with dreams of going to college for photography. But she was hiding a dark secret from her family. Her boyfriend, and father of her daughter, had become physically and mentally abusive. The beatings escalated, and Abbie ended up in surgery after a punch to the face shattered bones and required three metal plates. Abbie began drinking excessively to cope with the abuse. Though she finally pressed charges after he threw boiling soup on her, Abbie is now a fullblown alcoholic. Her parents are raising her daughter while Abbie lives nearby with a new boyfriend who enables her addiction. Her alcoholism has gotten so bad that Abbie already has chronic liver, kidney, and bone marrow damage. Without help, Abbie's family fears that her daughter will lose her mom for good.
Date Aired: June 2018
Interventionist: Ken
Season 19, Episode 2
Jackie R
Age: 45
Location: Bellefonte, Pennsylvania
Addiction: Alcohol (white wine)
What's Memorable: Ooof. I don't know if it was the story or the people or the fact that so many of Jackie's behaviors and justifications were uncomfortably familiar, but I found this episode to be really powerful. It reminded me a lot of Sylvia's episode with the whole graduation event – watching her be totally committed to going and then slowly over the day getting drunker and drunker, convincing herself she'll be fine and there's nothing to worry about, having someone there watching her to make sure she doesn't get too drunk to go. It's painful watching people watch over an addict like that, there's such a shared sense of dread and helplessness. The moment when Jackie asks for a drink during her intervention and immediately understands how bad that sounds and bursts into tears, I mean damn. I burst into tears right along with her. Jackie's family was amazing and kudos to Sylvia for another job well done. I imagine she related to Jackie pretty strongly. She's also just very good at this.
Official Synopsis: On the surface, Jackie had it all: a large tight knit family, a devoted husband, two beautiful sons, and a nursing career. But unbeknownst to anyone, Jackie found herself stuck in a loveless marriage. For 15 years she put on the happy face, but gradually began to drink and before she knew it, she was a full-blown alcoholic guzzling up to a gallon of wine a day. In 2015, her marriage dissolved, and after three wrecked cars and a DUI, she lost her RN license. Her bottom should have been a near fatal OD in Feb. 2017, but Jackie continues to drink, and her family and sons are helpless to save her.
Date Aired: June 2018
Interventionist: Sylvia
Season 19, Episode 1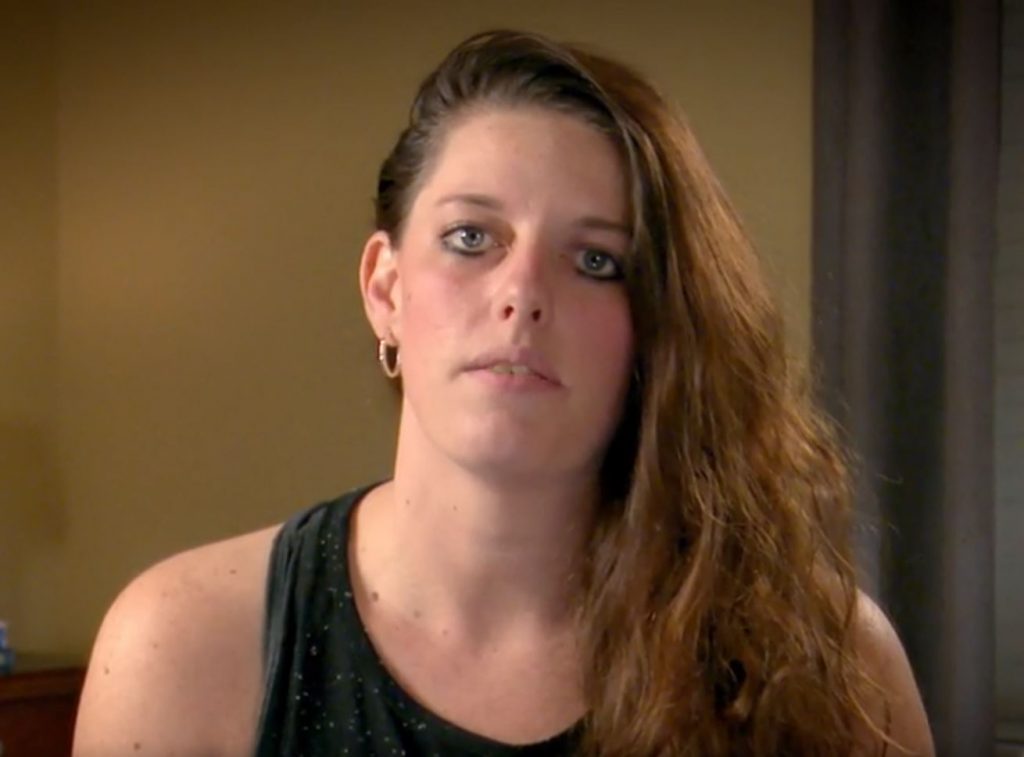 Sam & Brad K.
Age: 30 (Sam) and 28 (Brad)
Location: Indianapolis, Indiana
Addiction: Heroin
What's Memorable: 2 Hours! The intervention that started terribly but ended up being really effective, largely because of Jeff's skill and experience. The fact that they kept their word to visit the sister in the hospital AND they showed up for their 8:00 am trip to the airport to go to treatment – this couple was very sick but not hopeless, they still had so much love & goodness in them, and their desire to be better and live better was really apparent.
Official Synopsis: Sam and Brad's families have known each other since Sam and Brad were kids. Brad's sister was Sam's best friend growing up, and Brad's father coached Sam's softball team. Although Sam and Brad always had a crush on each other, it wasn't until they were adults that they finally connected. But when Brad introduced Sam to heroin and the two quickly got married, their drug-fueled codependency became the basis of their relationship. Sam lost custody of her son from a previous relationship and her career as a dental assistant, and recently contracted Hepatitis C. Brad has had multiple overdoses, lost his career, and his daughter from an earlier marriage. Their families are desperate for Sam and Brad to get clean, but are unable to work together as a united front, leaving Brad and Sam to continue on a downward spiral. Now they fear that rock bottom will mean both of their deaths.
Date Aired: June 2018
Interventionist: Jeff