Season 1, Episode 2
Vanessa
Age: 36
Location: Los Angeles, California
Addiction:  Shopping, agoraphobia
(Guest Post by Stefan) What's Memorable: No other episode of the series has touched on agoraphobia. Also, the fact that she had no family present at the intervention, only friends (Annie, the bulimic dancer from Season 2, is the only other person profiled in the show's history who can claim this).
Update: Vanessa Marquez was shot and killed by police during a welfare check on August 30, 2018. She was reportedly brandishing a BB gun when she was shot. Here is the news story about the tragic incident.
Official Synopsis:  Vanessa, who was a recurring character on the long-running medical drama ER, is addicted to shopping. She is heading towards bankruptcy.
Date Aired: March 2005
Interventionist: Tara
Season 5 Episode 16
Sharon
Age: 51
Location: Texas
Addiction: Self-injury (hits herself), plastic surgery, shopping
What's memorable: Sharon hits herself with her hairbrush in the head, in the stomach. She tried to kill her dog in the toilet, and she still spends everyday with her grandchildren. No one has any idea what's going on her her head. It's hard for anyone watching to know what's going on in her head. Needless to say, her self-esteem issues have seriously affected her life, yet she seems like a really good, caring, sympathetic person.
Official Synopsis: A 51-year-old grandmother, Sharon is a compulsive shopper who has undergone numerous plastic surgeries to feel better about her appearance. She also feels she must hit herself. She has bruises on her thighs and stomach and repeatedly hits her head with a hairbrush. Now things are getting even worse. Sharon recently got the urge to drown one of her Chihuahuas; she didn't harm the dog, but now Sharon's daughter is terrified that Sharon might try to harm her grandchildren. Sharon's dangerous compulsions need to stop.
Original Air Date: March 2009
Interventionist: Candy
Season 2, Episode 4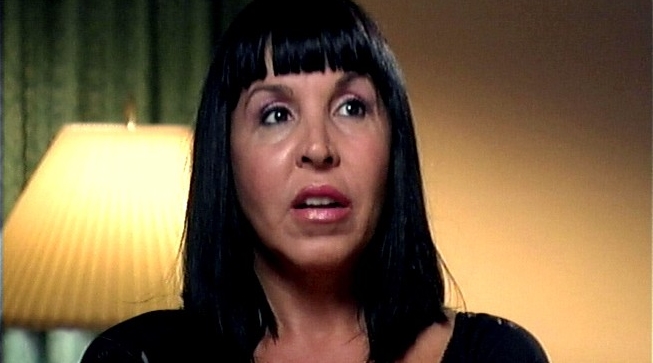 Heidi
Age: 46
Location: California
Addicted to: Shopping, plastic surgery
What's memorable: How happy she is when she's shopping. "I'm all the ladies of Sex & the City rolled into one"
Official synopsis: Heidi leads a busy social life and takes great pride in maintaining her health and personal appearance. Unfortunatley, she is addicted to plastic surgery and compulsive shopping. She cites that while she was raped at the age of 16, she blames no one for her need to "fill the void."
Original Air Date: December 2005
Interventionist: Tara