Season 5 Episode 6

John C.
Age: 21
Location: Tuscon, Arizona
Addiction: Eating disorder – Eats things he most certainly should not eat as a diabetic. Also, he seems a bit addicted to attention and to being sick.
What's memorable: "Sometimes I think he just wants to be the sickest one in the house." – mother with MS and Lupus. The whole thing with him going out with friends from work and being all excited about having some people to hang with, and then no one shows up…that's just depressing as hell. Poor guy, so embarrassing to have that happen on camera. Is he suicidal because he has no friends or does he have no friends because he's suicidal? I hope he's ok now.
Update: Sadly, John passed away on September 30, 2014. Read more here.
Official Synopsis: John has type one diabetes but refuses to be diligent about checking his blood sugar, or taking his insulin. A social misfit and an outcast for many years, John wants to be considered a regular guy, and pretends to be one by eating whatever he wants without regard for his illness. He has been in a near-coma and hospitalized multiple times. His parents want to stop enabling his self-destructive behavior, but won't kick him out of the house because they fear he'll die without their supervision.
Original Air Date: January 2009
Interventionist: Ken
Season 5 Episode 4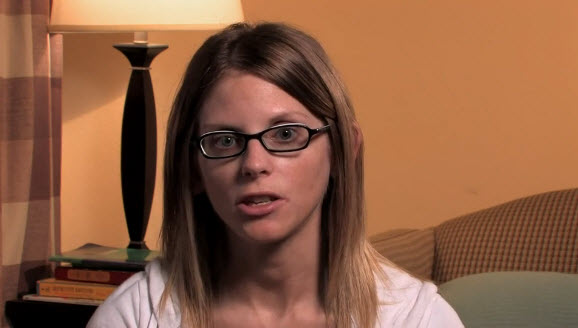 Nicole
Age: 32
Location: Baltimore, Maryland
Addiction: Dysphagia (unable to swallow). Also pain pills
What's Memorable: She hasn't swallowed food or liquid in 14 years! I mean seriously. Not even saliva. That's disturbing enough, but her inability to swallow is a traumatized response to being forced to perform oral sex on her friend's father when she was a child. The man who did it admitted to it, got probation, and still lives in her neighborhood, triggering her over and over every freaking day. Her parents did nothing when it happened and now everyone just tells her she should get over it and move on, that she's just looking for attention. No one in her life seems to have any sense of sympathy for her, they just think she's disgusting. I mean she clearly needs help, she's very unhealthy and she's been resistant to getting that help, but I do believe that if her family could get a grip on WHY she is the way she is, and that she needs their support and not their judgment, she would be more willing to get better.
Official synopsis: After being molested as a child, Nicole developed an unusual eating disorder–she was unable to swallow. By age 16, she weighed just 68 pounds, and doctors inserted a feeding tube into her stomach. The tube was supposed to be temporary, but 16 years later, Nicole still relies on the tube and can't swallow any food or liquids. She also abuses prescription drugs and neglects her two daughters. Her husband plans to divorce her if she continues to neglect their children.
Original Air Date: December 2008
Interventionist:  Ken